New Change Of Status I-539 Form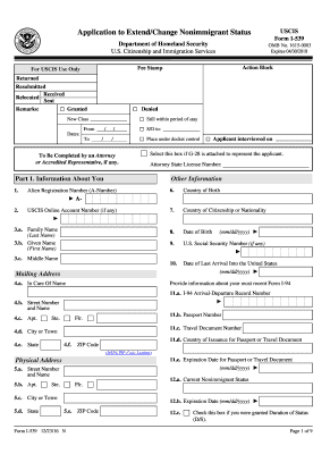 A person who is in the United States in lawful status may wish to change that status, for example, from a tourist to a student, or to extend that status, for example, to stay in the US and travel longer or to continue his/her education. In such cases, a person has to file a special form I-539 and submit appropriate fees. Recently, the US government made some significant changes to the process that will affect every applicant for change of status.
First of all, the government now is going to collect extra fees for biometrics. The current extra fee is $85. It means, for example, that where there is a family who is changing status, each eligible member of the family must submit separate biometrics fee and comply with biometrics requirements: appear for fingerprints according to the notice that will be issued by the government. Please note that a separate biometrics fee is required for each application: in case of a B1-F1 change of status, where an applicant has to submit two forms, two biometrics fees will have to be paid. All applicants who will be filing for extensions of status from now on will have to submit the biometrics fee, even if they submitted their initial applications prior to this new rule.
Second, now, dependents that previously were all listed on the same form will have to submit separate I539A forms. The good news is that there is no separate fee for I 539A forms.
If an applicant is seeking to reinstate their status to F1, he/she should request the D/S as a validity time for his/her reinstated status.
Finally, if in a family there is a child who is turning 21 shortly, a separate form for change of status has to be submitted for such a child. Their reason is that otherwise, all dependents' validity periods will be cut off to match the end of status for the aging out dependent.
If you have questions regarding I539 form and procedure, please book an appointment by calling us at 917-885-2261 or emailing at office@shautsova.com"