Attorney Alena Shautsova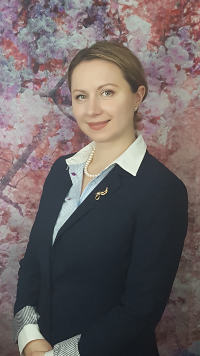 Alena Shautsova is the principal attorney at the Law Office of Alena Shautsova, P.C. Ms. Shautsova was admitted to practice law in the United States in 2008. She comes from Belarus where she graduated with honors from one of the most prestigious law schools in the former USSR. Following her graduation in Belarus, she entered the practice of business law while pursuing a second higher education degree in Economics and Management. Her native languages are Russian and Belarussian.

In 2005 the US Department of State awarded Ms. Shautsova with a highly competitive Eduard S. Muskie scholarship that allowed her to obtain a Master's Degree in Law from the Case Western Reserve University in Cleveland, Ohio. After her graduation from Case Western, Alena interned for the United Nations NGO Global Action on Aging in New York.

In 2007 Ms. Shautsova successfully sat for the New York bar examination. Currently, she focuses on Civil Law, Employment Discrimination, and Immigration. Ms. Shautsova has successfully represented clients before USCIS, Asylum Office, Immigration Courts, Board of Immigration Appeals, OPLA, EOIR, and Federal courts. She has handled adjustment of status, appeals, asylum, waivers, removal defense, employment and family Immigration petitions, represented clients at the hearings and interviews, ICE appointments, CBP and more.

She is admitted to practice law before the Southern and Eastern District of New York federal Courts, 2d Circuit Court of Appeals, and the United States Supreme Court. Ms. Shautsova is a member of the New York State Bar Association and American Bar Association. She was appointed and served as a member of the House of Delegates to the ABA and NYSBA; helped to organize Disaster Legal Services in New York after hurricane Sandy, put together various CLE programs for New York and US lawyers. She is currently serving as a member of a COSAC (Committee on standards of attorney conduct) and also an ABA co-chair of the membership in New York. In the past, she also represented ABA in the United Nations. Ms. Shautsova is a frequent guest speaker on the popular news channel RTVi. She has been selected to the prestigious Super Lawyers New York Metro Rising Stars ranking for 2015-2021. Only 2.5% of attorneys in New York Metro receive this distinction.