US Immigrant Visas Lawyer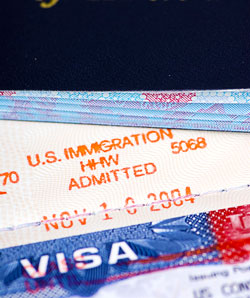 U.S. Immigrant visas are visas that lead directly to a green card or permanent residency in the U.S. At the law office of Alena Shautsova, our New York Immigration attorneys help people to obtain Family, Employment and Investment-based immigrant visas. An immigrant visa can be issued only outside the U.S. at a U.S. consulate abroad.
An adjustment of status process is used when a person is in the U.S. and is applying for permanent residency based on employment, family or investment petition. At times, a person may self-petition and his/her visa or adjustment of status will be based on his/her own petition that will have to have an appropriate classification: I360, Special Immigrant or VAWA self-petitioner; I140 extraordinary ability person, DV-lottery based visa or for example, an adjustment of status/ visa for those who are applicants/beneficiaries of U, T or S status. Our US Visa and Adjustment of status NYC based attorneys assist clients with consular and NVC processing, as well as adjustment of status process in the U.S. We help to determine which visa category is the most appropriate, assist in assembling the evidence and filing appropriate forms, answering requests for more evidence, provide services for successful appeals, motions to reopen and request for reconsideration, as well as provide services in connection with administrative processing. Our New York Immigration attorneys prepare and accompany our clients to the USCIS immigration interviews, and help to navigate the U.S. Immigration process in general.
Most importantly, our US Immigration attorneys will help to address any possible admissibility issues, determine qualification and assist in submitting any appropriate waivers necessary to overcome grounds of inadmissibility in connection with immigrant visas applications, if needed. You can read more on waivers here.
If you have a question, call US immigration lawyer now: 917-885-2261 or fill out this contact form.
Our lawyers speak English and Russian.