Citizenship Eligibility Through Your Spouse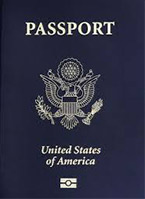 A person who received a permanent resident status in the US based on marriage to a US citizen, may apply for naturalization or US citizenship if he/she has been 2 years and 9 months in permanent resident status (provided all other conditions are met). To compare, the "regular" route would take 5 years (4 years and 9 months, as an applicant is allowed to submit his/her application 3 months in advance). However, the faster way comes at a price. Not only a citizenship status seeker has to demonstrate that he/she has been physically in the country for a required period of time, complied with good moral character requirements, paid taxes and obtained the "green card" legally, but will also have to demonstrate that the marriage he/she is in, is still ,in fact, a vital union...
Many couples for reasons of bad advice file their taxes separately. They choose "married filing separately" status thinking they would safe a couple of dollars. This is a big, big mistake. Not only it may result in tax penalties, but will for sure will result in Immigration problems. A couple who declares on their tax returns "separate" status risks denial of the spouse's citizenship application. As such, if you made a mistake like this in the past, correct it as soon as possible. Always, consult with a Tax attorney or a qualified CPA.
Failure to list all of the couple's children on permanent resident application may also lead to a denial. Often, applicants are confused and fail to list children from previous marriages (step-children) as couple's children on the applications. USCIS, not without grounds, may conclude that the spouses are not aware of one another's affairs, and as such, their marriage is not a real one... Even if the stepchildren are already adults, it is better to list them, then to face issues in the future.
Finally, USCIS requires one to submit evidence of vital marriage during the application, which may include joint bills, statements of joint bank accounts, evidence of joint ownership of property, etc. It means that a couple who went through the process of proving a "real marriage" twice (first for a conditional green card, and then again when the non -citizen applied to remove the condition) would have to go through the same (or almost the same) process again. One should keep every single piece of paper (or almost every single piece) to be prepared for the process.
Finally, I should mention here, that abused spouses, beneficiaries of I-360 who filed for it based on a marriage to an abusive US citizen spouse, may use the 3- year route as well. They would have to show different evidence, of course, consistent with their previous applications.
If you have any questions, you are free to call us at 917-885-2261 or submit them by email: office@shautsova.com .