Immigration Reform: Farmers Need Workers, Workers Need "Papers"
$nbsp;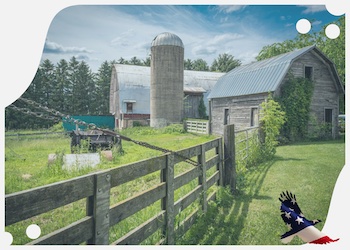 Since the advent of the pandemic, the level of labor shortage has shot up to an uncomfortable rate and is still rising. What used to be normal has changed completely as people now search for better alternatives such as remote work and are looking less for hands-on jobs. This situation has also affected farm labor greatly. Hence, farmers are clamoring for a legal reform that will see the problem considerably alleviated.
Farmers across the U.S are clamoring for a reform of the national immigration laws as they believe that this could reduce labor shortages and the rising food prices as the rising cost of production continues to hit the agricultural sector.
Farm operators opine that the Farm Workforce Modernization Act yet to be passed by the Senate but already passed by the House will give room for a stable and dependable workforce by granting citizenship to undocumented agricultural workers and reforming the seasonal farm worker visa amongst other this. According to the proposed Act, DHW would grant a status to a non-citizen who " (1) performed at least 1,035 hours of agricultural labor during the two-year period prior to March 8, 2021; (2) on that date was inadmissible, deportable, or under a grant of deferred enforced departure or temporary protected status; and (3) has been continuously present in the United States from that date until receiving CAW (certified agricultural worker)  status. The bill imposes additional crime-related inadmissibility grounds on CAW applicants and makes some other grounds inapplicable." The status shall be valid for 5.5 years and may be extended. DHS may grant dependent status to the spouse or children of a principal non-citizen. A non-citizen with a pending application may not be detained or removed by DHS and shall be authorized for employment until DHS makes a final decision on the application. A CAW non-citizen (and dependents) may apply for lawful permanent resident status after meeting various requirements, including performing a certain amount of agricultural labor for a number of years. The last action on the bill was March 22, 2021 when it was received in the Senate and read twice and referred to the Committee on the Judiciary.
Rep. Zoe Lofgren, a Democrat from California who sponsored the House bill, said, "At a time when labor shortages are causing inflation and high food prices, it's clear that we need the Senate to pass our Farm Workforce Modernization Act to stabilize the agricultural workforce and protect America's food supply." See.
The measure, according to some workers' advocacy groups, excludes some immigrants and would exacerbate the already existing power disparities between migrant workers and farm owners.
Senators Mike Crapo(Republican) and Michael Bennet(Democrat) sponsored a version of the legislation in the Senate that seeks to amend and greatly utilize H-2A temporary work visas to offer undocumented farm workers an all-year work-based residency that could lead to citizenship.
It continues to be unsure whilst the regulation can be provided for a vote withinside the Senate. However as labor shortages continuously affect food production negatively, the bill has acquired huge support from hundreds of farmers and agriculture groups.
Stephanie Mickelsen owns a large-scale potato farming operation in Idaho and stated her farm started using the H-2A program for farmworkers, which has made a large difference. However due to the fact, that the visa only allows temporary authorization for 9 months at a time, hiring labor is still a problem.
According to Mickelsen, who is chair of the American Farm Bureau Labor Committee and is also running unopposed for a state office in Idaho, "we have about 60 full-time people that work on the farm all year long, but that is not enough when you hit harvest to be able to get that crop out of the ground. So we need an additional 100 to 150 employees on the farm side." "I'd hire domestic help, but they don't appear to exist," said the speaker.
Although there have always been labor shortages, they have gotten worse recently, according to Charles Wingard, who manages a family farm in South Carolina that grows leafy greens.
"Since Covid in 2020, I think that the fragility of our food supply chain came to light in that our food supply network was a little more vulnerable than most people, including myself, would have anticipated," the author says.
Although Walter P. Rawl & Sons, the farm owned by Wingard, employs 700 domestic and H-2A workers, there is a 20% staffing shortage in the processing and plant positions.
"We supply large grocery chains, and they don't seem to mind that we have labor issues. They merely require us to fulfill their orders, ensure that the truck is correctly loaded, and make timely deliveries, he said. There is constant pressure there.
Wingard claimed that despite widespread advertising, domestic employees are just not accessible, particularly in recent years due to individuals falling ill, taking early retirements, or obtaining employment that allows them to work from home.
A 2022 Texas A&M University study found a correlation between having more migrant and H-2A workers and lower inflation, higher average wages, and lower unemployment. The study was commissioned by the American Business Coalition, a bipartisan organization of 1,200 business leaders who support immigration reform. According to the study, "more denied applications for naturalization are connected with higher inflation and higher consumer costs."
Some labor rights organizations, though, are adamantly opposed to the immigration movement because they don't think it's the best route to immigration reform. Why?
Familias Unidas por la Justicia, a farmworker union on the West Coast, and other organizations have been opposing the bill in part because it would require enrollment in a government verification process that, in their opinion, could lead to the illegitimate tracking of immigrants and would exclude all undocumented immigrants who work on farms.
"Those who don't qualify for any kind of relief from the Farm Workforce Modernization Act have two options: either self-deport or join the H-2A program, which time and time again, we've seen, is very exploitative," said Edgar Franks, political director of Familias Unidas por la Justicia and a former farmworker in Washington.
According to the bill's current House version, those who can demonstrate they have worked at least 1,035 hours in agricultural work for two years are eligible for a temporary "certified agricultural worker status" that is good for five-year intervals. They would be qualified for permanent residency status after eight more years of farm work.
According to Franks, his group would prefer to see comprehensive immigration reform, such as amnesty, since "it provides the employer a lot of authority over the lives of farmworkers, which in agriculture has been very tough to handle."