Immigration Reform: Plan A, Plan B… No Plan?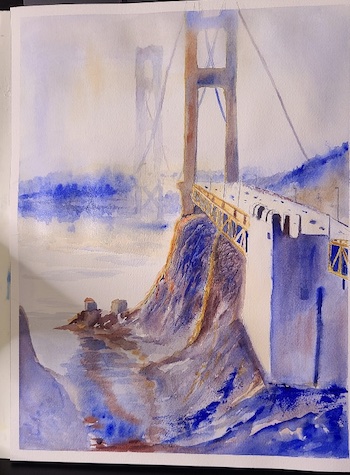 New York Immigration lawyer Alena Shautsova helps immigrants to reach their Immigration goals and stay united with their family members in the United States.
About 47 Million immigrants are residing in the United States according to various media resources, comprising about 15% percent of the US population. It is a huge, vast number of people. Yet, many of these people to do not enjoy representation in the US elective bodies, as they cannot vote; they cannot rely on any governmental help in case they get sick or disabled as, even though they pay taxes, they are not entitled (contrary to some beliefs) to any social security or disability benefits; and they are too afraid to voice their labor rights or anti-discrimination concerns. Ever since its foundation, the US had to balance the needs and interests of the new immigrants with the interests and rights of the people who settled in the US first. It is nothing new, yet, for the past 20 years no comprehensive legislative action has been passed that would address the "elephant in the room": millions of people who are residing in the US, working, taking care of the "older Americans" (in terms of immigrating to the US and legalizing first, more settled Americans), giving birth to new generations of Americans, but yet, who do not enjoy a simple piece of mind when it comes to possible deportation...
From election year to election year, politicians are using Immigration as an attraction point in their campaigns: some vow to seal the border and deport everyone, some promise citizenship to those who are here and forgiveness to all. But … but we are still at the same point, or almost the same point where we were 20 years ago. Within the past year, we did see an increased proposal activity of various Immigration changes: US Citizenship Act 2021, Essential Workers Citizenship Act, Dream and Promise Act, etc… but none of these initiatives developed into actual laws. Unable to reach consensus on any points, Democrats, who made Immigration one of their main points of 2020 election campaign, resorted to budget reconciliation leeway in order to try to pass the Immigration reform for Dreamers or young adults, essential workers and TPS holders. But there was one hurdle on their way: they needed a ruling by an arbitrator, a senate parliamentarian, who would have to decide if proposed Immigration provisions comply with what may be included into the budget reconciliation proposals...
As you are probably aware, the senate parliamentarian said NO, the first time, and the second time, rejecting both Democratic proposals, mainly, because of their important nature: the Immigration became too important in order to be passed without active participation of current minority, the Republicans…It is simply a catch 22 situation and paradox: immigration is important and has to be included in the budget reconciliation to deliver fast relief, but way too important to be included there as its immigration benefits will have much bigger effects than monetary benefits it may cause... That was, sufficiently, the explanation the senate parliamentarian provided to justify her harsh ruling. See .
In response to such a ruling, on September 30, 2021, immigrants blocked traffic on the Golden Gate Bridge, desperate to deliver their point, that they cannot wait any more...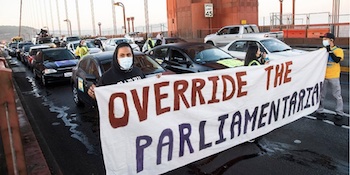 Source
And just now, Democrats revealed plan C: "The next one in line is this parole option, which is not as ambitious as the first two, but it also brings relief to a significant number of people that are here without any documentation and allows them the ability to work," said Rep. Adriano Espaillat (D-N.Y.), who along with Reps. Jesús García (D-Ill.) and Lou Correa (D-Calif.) has vowed to vote "no" on any reconciliation bill without immigration provisions.
"This option would grant temporary immigration and work benefits to potentially millions of people, but not a direct path to citizenship."...
What is parole? Parole is a form of a deferred action, and frankly speaking, Democrats do not need a budget reconciliation provision here to implement it as it is in power of the Department of Homeland Security to exercise its prosecutorial discretion, and provide certain flexibility in granting, for example, parole in place, which is already being practiced by DHS. However, potentially including it into the reconciliation provision, parole may have more "legitimacy" in the eyes of opposition. Parole would give a person protection from removal, a work permit, and maybe an advance parole… It will and cannot, however, lead to a green card or citizenship. It may help those who may qualify as immediate relatives to satisfy a "paroled" requirement for adjustment of status purposes. As such, it would help to avoid the need of I 601A waiver and overseas travel, and potential dangers of unlawful presence bars.
We are yet to hear back if plan C would be approved by the parliamentarian, but it is clear now that even if something will be included in the reconciliation provision, it will be very limited in its scope and action, and it is likely that Biden Administration would have to rely on its inherent powers to soften the immigration policies and provide relief avenues to Immigrants, perhaps by changing adjudication criteria for hardship waivers, adopting friendlier policies related to unlawful presence bars and failure to maintain lawful non-immigrant status, and exercising its broad powers in joining motions to reopen.