MAVNI Program May Be Canceled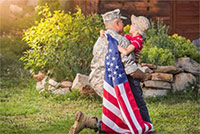 MAVNI or Military Accessions in the National Interest program allows non-immigrants to join US Military forces and obtain citizenship via expedited way. It was first authorized by President Obama in 2009.
On July 3, 2017 National Public Radio reported that Pentagon has plans to eliminate MAVNI program due to increased security concerns. The NPR states that it obtained a draft of the Memo detailing the plans regarding MAVNI. "Nearly 10,000 immigrants are in the MAVNI program, principally the Army, according to the Pentagon memo. The memo divides them into four groups based on their potential security risk, as determined by their level of vetting and their access to classified information".
If MAVNI program would be in fact cancelled, then thousands of enlistees whose visas expired and who were waiting for the citizenship would face risk of deportation.
There have been already instances of lawsuits filed in connection with the program.
In one of the lawsuits, those recruited by the Army have sued. They argue that they were promised an expedited path to citizenship but that the Department of Homeland Security, at the behest of the Pentagon, has failed to process their naturalization applications, as required by law.
In the other case, the plaintiffs argue the Pentagon discriminated against naturalized U.S. citizens who were denied security clearances in the first terms of their enlistment. That meant that the military careers of the MAVNI recruits were effectively stalled out because they were unable to attend officer training school, for instance. reports NPR
The lead plaintiff in that lawsuit, Kirti Tiwari, is a native of India, with a master's degree in molecular biology. He was selected as an Army nominee for NASA's astronaut program, but that plan was put on hold when Tiwari couldn't get a security clearance in his first term of enlistment.
MAVNI is an excellent opportunity for those who can contribute their knowledge, experience and enthusiasm to stay in the US legally. The creator of the program retired Lt. Col. Margaret Stock assured that the program contain several levels of vetting and a "bad guy" would not be able to obtain access to secured information. It would be disappointing to lose a chance of enriching US forces with talented and educated young people.