Proving Admission Without I-94 Card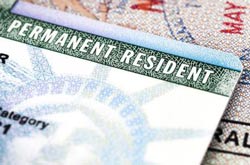 A person in the United States who is applying for permanent residence, has to prove that he/she was inspected and admitted before his/her application for adjustment of status is granted. Often, the problem arises when a person was brought into the country by his/her parents or entered the US using fraudulent documents. Sometimes, a person is confused and does not know the truth: he/she has to rely on the parents' explanation rather than an independent recollection of the entry. Sometimes, a person does not have the fraudulent documents in his/her possession to prove that a false name or passport or a visa were in fact used and a person, even though through fraud, was in fact inspected and admitted.
In such situations, it is still possible to convince USCIS that an admission and inspection took place, but it will not be easy since primary evidence of admission such as an I -94 card and a passport stamp would be missing.
First, a person has to demonstrate that primary evidence of admission is missing. Sometimes, it is a result of a FOIA request, decision on I 102 form or a statement attesting that primary evidence does not exist. Thereafter, a person has to try providing secondary evidence of admission. Secondary evidence may include "documents created and maintained in the ordinary course of business by an individual or entity other than DHS. The regulation gives as examples religious or school records, if public vital records are not available. For secondary evidence, the chief concerns would be (a) is the document authentic and (b) what can reasonably be inferred from the document about whether the claimed admission took place." See AILA document 16080935.
Often, however, even such evidence would not be possible to obtain. As many "illegal" immigrants would not be able to find a "legal" employment or obtain a social security number that is necessary for creation of secondary evidence.
It means that the only way a person would be able to prove admission is by presenting credible affidavits and sworn statements. Unfortunately, such cases take a very long time and often, motion practice is needed to convince USCIS to accept evidence of admission in the form of a written testimony. Nevertheless, all possibilities have to be exhausted before a person may try his/her luck in a federal court.
Often, despite an initial explanation that a person does not have primary evidence of admission, USCIS sends an RFE demanding that an I -94 card be presented. One should never ignore an RFE and has to respond, even it means he/she will send the same explanation that was already provided.
Adjustment of status is a complicated process and an advice of an attorney is often necessary to get though its maze. If you have questions, you may ask them by calling us at 917-885-2261 or via website www.shautsova.com.