RFE, NOID And NOIR: Can You Still Win Your Case?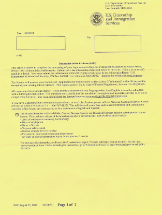 Every applicant for Immigration benefits is probably aware of certain notices USCIS may send such as request for more evidence (RFE), notice of intent to deny (NOID) and notice of intent to revoke (NOIR). As it turns out, it is not so bad if you receive such notices, because according to the recent changes implanted by the USCIS, USCIS may simply issue a denial instead of sending a notice!
RFE
RFEs are very common. Nearly every family adjustment case will receive an RFE regarding the affidavit of support form I 864 even if the initial evidence submitted was sufficient. RFEs are also very common in employment immigration content: almost every H1 or EB1, EB2 or EB3 case would get one. As a rule, an RFE does not mean a denial, unless when you submitted your case you knew you have an issue that may be uncovered or your circumstances changed so that you no longer qualify for the benefit. Examples of "issues" would be problems with the records regarding employer's ability to pay; issues during PERM; loss of employment by the sponsoring family member...
An RFE during EB1 case usually gives one a chance to improve their case. It also shows the USCIS officer's prospective regarding the case, and if you do have requested evidence, this is your chance to "shine." Approvals after good responses to the RFEs are very common.
An RFE contains a time limit during which a person should submit requested evidence; the maximum time limit is 87 days. If the deadline is missed, and RFE is not answered, the case will be denied by default. All requested evidence must be submitted at once: it is not possible to submit evidence in batches.
NOID
Unlike an RFE, a NOID is an indication that the case is on its way to a denial. Asylum cases and SIJ cases are the types where NOIDs are popular. It is still possible to get an approval even if you receive a NOID, but you have to do an excellent job hitting all the points specified in the NOID. Unlike with RFE, here, you will need to work with an attorney as often, NOIDs involve legal issues that a person with no special training will have a hard time addressing.
NOIR
Notice of intent to revoke means something went really wrong. And this "something" was discovered by USCIS or consulate after the petition was approved. Often, it means that there is an issue of fraud or misrepresentation or lack of qualifications for the benefit. For example, an approved employment petition may be revoked if it was discovered that the evidence submitted in support of the case were tainted; an approved family petition may be revoked if there is a lack of the qualifying relationship or proof of thereof. An example: during a DNA test it was uncovered the child is not a biological child of the petitioner. It is not easy to win a case when NOIR is received. Also, unlike RFEs, NOIRs provide a shorter time for a response. However, if you believe in your case, you should respond to NOIR: at the very least you will preserve the issues of an appeal or a petition for review.

Finally, it is very important to respond to the notices received by USCIS on time and fully: if you believe in your case and there is a denial, an appeal (where appropriate) will be considered on the "record": only the evidence which was submitted for the case will be taken into consideration. Of course, at times there are means to address insufficient evidence via motions or re-submissions, but it is best to address problematic issues expeditiously.

If you need help dealing with an RFE, NOID or NOIR, please contact the office for a consultation at 917-885-2261 or at office@shautsova.com.