T And U Visa Are On The Rise: Anti-Trafficking Law Is The Only New Immigration Law That Both Parties Want To Pass
The political divide in the United States' government remains as wide as ever, as most bills are passed or rejected along party lines. However, the issue of human trafficking gained attention from lawmakers on both sides of the aisle, with a number of bills aimed at combating trafficking introduced in Congress in recent years. These bills are part of a broader effort by lawmakers to address the problem of human trafficking. The new SAVE Girls Act is one such bill. We will discuss this and other efforts and also the pathways to "legal" status for those who have become victims of human trafficking.
Protecting Young Girls from Trafficking
The new bill aims to combat the trafficking of young girls through the US southern border with Mexico. Despite continuing disagreements over wider immigration issues, the bill has garnered bipartisan support in Congress. This signifies lawmakers can still take steps forward in tackling relevant problems.
The bill is officially called the Stopping the Abuse, Victimization, and Exploitation of Girls (SAVE Girls) Act. It would grant a total of fifty million dollars to non-profit organizations and municipalities throughout the country. This funding is proposed to help authorities closer to the border fight the illicit trafficking of girls and younger women. The bill has been introduced by a bipartisan group of lawmakers, including Republican Congresswoman Marsha Blackburn from Tennessee. She is joined by Minnesota Senator Amy Klobuchar, who launched a failed presidential bid in 2020.
Ramping up the Fight Against Trafficking
In the beginning of this year, Senator Blackburn joined two other female Republican senators on a parliamentary trip that toured the border with Mexico. Senator Blackburn was joined by fellow Republican Senators Cindy Hyde-Smith of Mississippi and newly elected Katie Britt of Alabama.
In a joint statement, the lawmakers emphasized the urgency of taking action to combat human trafficking. Senator Blackburn said in an interview with NBC News that patrol agents pleaded for assistance in addressing the trafficking issue. She spoke of collaborating across party lines, mentioning the fentanyl crisis and human trafficking as potential points of agreement. Senator Blackburn emphasized that passing measures to strengthen the border would protect children and communities.
Taking Different Routes to Combat the Same Issue
The three senators have been joined by another party member, Senator Mike Braun of Indiana, to propose a separate anti-trafficking law. It forbids anyone who has been accused of trafficking in drugs or people from receiving government assistance while awaiting trial.
This new bill has not gotten any support from the Democrats in Congress. When asked about this, Democrat Senators pointed towards their own proposed bills that concentrated on helping trafficking victims.
Recognizing the Connection Between Migration and Trafficking
The immigration industry has been identified as a key player in human trafficking, and Republicans are using that as an angle to push for stricter immigration laws. Such legislation has garnered support from the American public, with nearly three-quarters of Americans supporting tighter border security.
At the same time, Democrats are reluctant to increase the power given to agencies going after undocumented immigrants. Instead, they want to focus on providing assistance for trafficking victims. Four-fifths of Americans are also in favour of broadening the legal pathways for migrants to get into the country.
Human Trafficking Remains a Global Issue
The problem of human trafficking is not confined to the United States, as it is a global problem. According to various statistics, there are nearly thirty million victims of human trafficking worldwide, with the majority being women and girls. Trafficking victims are often subject to forced labor, sexual exploitation, and other forms of abuse. Human trafficking is a multi-billion-dollar industry that preys on the most vulnerable populations, including women and children. Traffickers often use promises of assistance with migration to lure their victims.
There is growing awareness of this particular method of human trafficking in the United States. Using the well-established illegal migration network makes it difficult for law enforcement to track and capture the traffickers. According to the National Human Trafficking Hotline, there were nearly 11,000 reported cases of trafficking in the United States in 2020. Some say the actual number is likely much higher due to underreporting.
More Still Needs to be Done
The US Department of Homeland Security arrested nearly 9,000 traffickers last year, cutting off thousands of trafficking operations. While progress has been made in recent years to combat trafficking, there is still much work to be done. The DHS is closely monitoring the situation in Congress as the bills make it to the floors for consideration.
These bills are an example of how lawmakers from both sides of the aisle can come together to address a critical issue that affects vulnerable populations. They represent an important step forward in the fight against human trafficking. The supporters of this bill aim to provide a comprehensive approach to combating trafficking and bringing traffickers to justice. If passed, they will provide the resources and support needed to make a real impact in the fight against human trafficking.
How Victims of Human Trafficking Get Immigration Help in the United States
A person who is a victim of human trafficking may file for a T visa status in the United States regardless of when the trafficking occurred, and what other Immigration violations they have in their record (apart from very few exceptions). One will qualify for a T visa if he or she:
1-is or has been a victim of a severe form of trafficking in persons;
2-is physically present in the United States (or American Samoa or CNMI), or at a port of entry, on account of such trafficking, including having been allowed entry into the United States for participation in investigative or judicial processes associated with the trafficking
3-is either under 18 or has complied with any reasonable request for assistance from a law enforcement agency (but see: trauma nexus exception)
4-would suffer extreme hardship involving unusual and severe harm upon removal 8 U.S.C. 1101(a)(15)(T)
The trafficking in its turn is defined as:
(A)
sex trafficking in which a commercial sex act is induced by force, fraud, or coercion, or in which the person induced to perform such act has not attained 18 years of age; or
(B)
the recruitment, harboring, transportation, provision, or obtaining of a person for labor or services, through the use of force, fraud, or coercion for the purpose of subjection to involuntary servitude, peonage, debt bondage, or slavery.
The definition is rather broad and in practice will include severe labor violations such as failure to pay minimum wage, threats of reporting one's immigration status and coercion to work; exploitation of a girlfriend by a partner who assisted in transporting the person to the USA… Here is a great example of various threats that may qualify one for a T visa/status: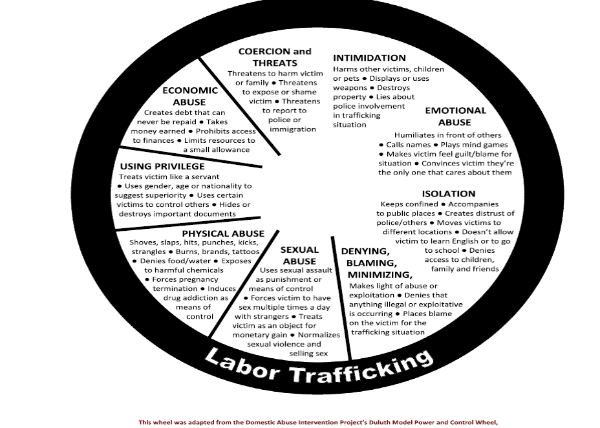 Most of the times, a person finding himself or herself in tough circumstances is not aware that they may qualify for a T status. Often, it happens to people who were brought to the US on H2B visas as seasonal workers just to find out the conditions of work in the USA are horrifying, the pay check is constantly being reduced by multiple deductions, and the bosses treat them as their own property.
T visa allows a person to get status in the US relatively quickly compared to a U visa: 9- 22 months; a person with T visa application may sponsor/add his/her family members including those who reside overseas. If T beneficiary can show that that his/her family members may face retaliation/danger they can sponsor "extra" relatives such as:
in case the T beneficiary is under 21, they can also sponsor their unmarried under 18 years old siblings;
and beneficiary of any age may sponsor any child (adult or minor, married or unmarried) of their spouse, parents, unmarried siblings.
Basically, under certain circumstances, T visa would allow the entire family to receive status/immigrate.
For a T visa, it is not necessary that a law enforcement agency executes a certification.
For a U visa, however, a U visa certification is a must. Without law enforcement signing off on the person's future application, it is not possible to file a U visa petition. But, one may receive a U visa if he/she is a victim of a crime that is not necessarily only human trafficking, but also such as: Abduction, Abusive Sexual Contact, Blackmail, Domestic Violence, Extortion, False Imprisonment, Female Genital Mutilation, Felonious Assault, Fraud in Foreign Labor Contracting, Hostage, Incest, Involuntary Servitude, Kidnapping, Manslaughter, Murder, Obstruction of Justice, Peonage, Perjury, Prostitution, Rape, Sexual Assault, Sexual Exploitation, Slave Trade, Stalking, Torture, Trafficking, Witness Tampering, Unlawful Criminal Restraint, Other Related Crimes*†
You can learn more about U visa here.
While U visa also allows for family members to be sponsored, it is more restrictive in the circle of those who can benefit form the U visa petition filed by the main beneficiary. But the main disadvantage of the U visa is tremendous wait times: 5-7 years!
Just in case, here is a comparative table prepared by the Immigration Legal Resource Centre as to who can be a derivative/dependent for various humanitarian applications: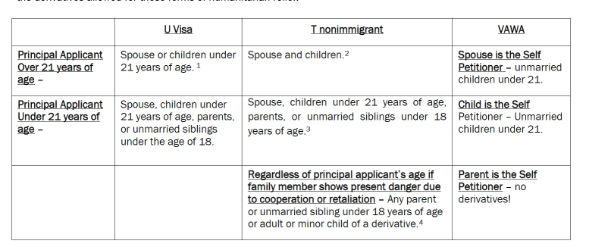 If you believe you can qualify for a T or a U visa, call our office for a confidential consultation: 917 885 2261.
Remember: USCIS will not disclose that you submitted your application to the person who hurt you or abused you!