TPS For Ukrainians: Why You Should File For It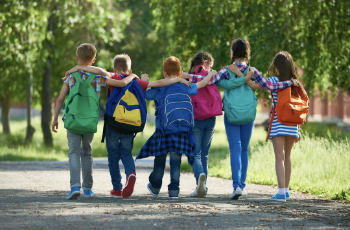 TPS stands for temporary protected status. It was created by the in the Immigration Act of 1990. It is provided to nationals of specifically designated countries that are confronting an ongoing armed conflict, environmental disaster, or extraordinary and temporary conditions. It provides a work permit and protection from deportation to foreign nationals from those countries who are in the United States at the time the U.S. government makes the designation.
At the beginning of 2022, about 350,000 resided in the US under this status. This number increased significantly after new countries were designated and re-designated for TPS by the Biden administration. Yet, many eligible non-citizens are hesitant and do not apply for TPS even though they qualify. A country can be designated for TPS for 6, 12, or 18 months at a time. Within 60 days of the expiration of TPS, the Secretary of State must decide whether to extend or terminate a designation based on the conditions in the foreign country. Such a decision cannot be arbitrary. Decisions to begin, extend, or terminate a TPS designation must be published in the Federal Register. If an extension or termination decision is not published at least 60 days in advance of expiration, the designation is automatically extended for six months. The law does not define the term "temporary" or otherwise limit the amount of time for which a country can have a TPS designation. As such, there are countries for which TPS has been extended for decades.
Qualifications For TPS
It is relatively simple to qualify for TPS: one has to prove that he/she (individually) (dependents are not allowed here) is a national or habitual resident of the designated country, was physically present in the USA on a certain date designated by the government, and has been continuously residing in the USA from a certain date designated by the US government, and is not inadmissible to the United States or barred from asylum for certain criminal or national security-related reasons, such as individuals who have been convicted of any felony or two or more misdemeanors. Possible grounds of inadmissibility may include a claim of a US citizenship, misrepresentation/fraud, controlled substance offences, prostitution, etc. But a waiver may be granted in most cases! A waiver application form I 601 can be submitted with the TPS application, or at a later time, after USCIS determines that a waiver is necessary.
The best part ab out this status, that a person can qualify for it whether they entered the US legally or illegally, on a parole or UFU program, or overstayed their visa; those who are waiting for an asylum interview or a court hearing, or even those who already have ordered of removal against them also can qualify!
Deadlines
It is important to know that TPS status is not automatic. To receive it, once must file for it and must do so within the window of the initial designation. If one misses the deadline, there is still an opportunity to receive the status, but one will have to present a very good reason as to why the deadline was missed. Moreover, once the country is designated for TPS, it is likely that a TPS status will be extended for that country in the future. Then, those who would like to maintain their TPS status, must re-register usually within the 60 days of the announcement about the extension.
For Ukrainians, to qualify for TPS after the most recent re-designation, a person has to demonstrate that they have been present in the US on August 16, 2023, continuously resided in the US since October 20, 2023, and filed for TPS. They must file their application from August 21, 2023 to April 19, 2025.
For those who would like to re-register for the extensions, they must do it from August 21, 2023, through October 20, 2023.
Advantages of TPS Status
Despite the fact that TPS for Ukrainians was first announced back in 2022, not all eligible non-citizens filed for it. Many are hesitant as they believe TPS will somehow interfere with their existing status.
First, TPS is not interfering with any existing status. If one has a "legal" or lawful non-immigrant status at the time of the TPS, that status remains with no adverse effects. If and when TPS expires, the person will revert to their non-immigrant status for the remainder of it.
Per USCIS: " registration for TPS does not prevent you from:
Applying for nonimmigrant status
Filing for adjustment of status based on an immigrant petition
Applying for any other immigration benefit or protection for which you may be eligible"
TPS however, brings, many positive and unique benefits. The key benefits of TPS are protection from deportation, employment and travel authorization.
But the best part about the TPS is that it helps an individual to revert back to "legal" status and possible adjustment of status through its unique travel authorization. Many cannot adjust status in the US because they either lack a legal entry, and hence not even their 21 years old US citizen children can help them, or because they failed to maintain lawful non-immigrant status necessary to file to an employment based adjustment of status. With TPS travel authorization and travel, this problem resolves! Not only that, employment based adjustment of status includes EB1 extraordinary ability category, and EB2 NIW category: self-petitioning categories based on only your, unique qualifications which may be perfect for talented business people, IT specialists, athletes, artists, teachers, and other professionals!
Disadvantages of The TPS
It is hard to pinpoint any real disadvantages of the TPS status. One may say that TPS prevents one from receiving a de novo trial of their asylum claims in court. It is so because if an asylum officer denies once asylum claim after an affirmative interview they will not be able to refer a person to court because technically a person will have a status in the United States and thus cannot be said to be deportable. But if we take into consideration that many cases for asylum have been pending for years and country conditions in the home country of the applicant most likely have changed significantly insisting on being referred and placed into removal proceedings may not be the best choice for an asylum seeker who otherwise qualifies for TPS.
The next point I would like to make it's not a real disadvantage but you need to know that if you had to submit for a waiver of inadmissibility in connection with your TPS application that waiver if granted can be used only for TPS purposes. If later for example you would want to file for adjustment of status and your invisibility issues persists you will have to have a new waiver if possible.
To conclude I would encourage everyone who may qualify for TPS to consult with an attorney to see if TPS would be the best status for them and if so do not forget to apply within the deadlines.
If you need help with your immigration matter please call us at 917-885-2261.