Welcome Corps: New Way For Refugees To Come To The U.S.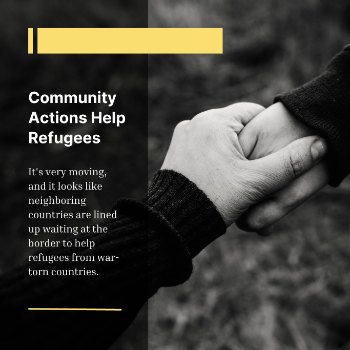 The United States of America has always been a helper to other countries, especially in times of need. One avenue of assistance is the acceptance of and aid provided to refugees. Just last week, the Welcome Corps, which is a private refugee sponsorship program, was officially unveiled by State Secretary Anthony Blinken. Find out more about the Welcome Corps and how to participate.
What is the Welcome Corps?
This is a direct effort to use community and grassroots levels of cooperation to sponsor refugees from all around the world. The Welcome Corps is a brand-new, government-sanctioned volunteer opportunity for Americans to welcome people fleeing persecution and seeking safety. The Community Sponsorship Hub is part of a coalition that manages the Department of State's Welcome Corps program, which is financed by the federal government.
Through the Welcome Corps, Americans who volunteer can welcome refugees who have fled persecution in many ways. Depending on what they can provide, volunteers can offer to house refugees or prepare other forms of accommodation.
The Welcome Corps is a result of a cooperative agreement with the Bureau of Population, Refugees, and Migration at the U.S. Department of State. This allows organizations with knowledge of refugee resettlement, protection, and welcome to work together to complement the Welcome Corps. If you are inspired and seeking to join, here is a helpful link: welcomecorps.org
What is the goal of the Welcome Corps?
Refugees fleeing wars, persecution, or extreme poverty need aid in many forms. They need food, shelter, and clothing. They might have needed medical assistance, both physical and emotional. The Welcome Corps is equipped to provide all those things. Yet, one very important thing refugees need is stability.
The goal of the Welcome Corps is to give 10,000 willing Americans the opportunity to provide stability to 5,000 refugees. This is stability in the form of funding accommodations or helping them learn the language and traditions. It involves assisting them with acquiring the credentials they need to find jobs, housing, entry into schools, and so on.
Through private sponsorship, the Welcome Corps wants to use the energy and talents of Americans from every background. The idea behind the organization is to form partnerships with goodwill groups and NGOs ranging from faith and civil groups to veterans. Immigrant communities, businesses, and other institutions with a willingness to help are welcome.
What Are The Requirements To Join The Welcome Corps?
To Join Welcome Corps, a person must be a US citizen or a permanent resident and have 4 friends who are willing to help. So, there have to be a group of five persons. These can be friends, family members, co-workers, etc. Each participant must be at least 18 years old. Each sponsor will undergo background checks.
However, the most crucial ability you require for success is simply being an American: familiarity with local customs and practices.
Some of the more tangible requirements include having the ability to provide services essential to private sponsorship. This means that volunteers must be able to offer services to refugees that are comparable to those offered by resettlement agencies. These include being able to connect them with health and education services and helping them integrate into the community. Importantly, for each refugee volunteers must raise at least $2275 in cash or suitable like funds.
Volunteers who want to create a sponsor group should have a welcome strategy. It is one of the requirements for a private sponsor group application. Volunteers are asked to describe how they will assist sponsored refugees during their first 90 days in the country. After the 90 days, the obligation to help stops, but volunteers are welcome to continue their efforts. It should be noted that the government already provides sample strategy plans, so planning is made easy! See here
Offering Aid to Those Who Need It Is The American Way
Imagine arriving in a strange country where the language might be different and the customs and traditions are definitely different. That is not stability. It is in this aspect that the Welcome Corps truly excels. The Welcome Corps is all about helping those in need settle into life in the United States. Any volunteer will receive expert guidance on how to use their talent and resources at every stage of the process.
America has a long history of giving aid to those in need. In recent years, many regular Americans welcomed newcomers from Afghanistan, Ukraine, Venezuela, and other countries. The Welcome Corps builds on that by creating a welcoming movement that will allow volunteers to continue to serve refugees in the future.
Who can be sponsored?
Initially, only already pre-chosen refugees will be able to participate in the program, and they will be assigned to their sponsors. Starting mid-year, sponsors will be able to choose the refugees they would like to help. Welcome Corps is new in the United States, but is not new around the world.
Welcome Corps was modeled after a successful Canadian program that has so far resettled 368,000 refugees in Canada. Almost half of all refugees who have come to Canada since 1970 have been resettled through private sponsorship.
See
Note, that once in the United States, refugees may qualify for public benefits such as free medical insurance, cash assistance, housing assistance, etc. See New York public benefits guide: see here
After one year of physical presence in the US, a refugee may apply for a green card or permanent residence in the United States, and after being in LPR status for 5 years, he/she can file for naturalization. (Note: in reality this period of time is shorter as the green card issued to refugees will reflect a 'roll-back" date). To compare, in France it is possible to file for naturalization as soon as refugees come to France in refugee status; in Germany, 8 or 7 years of residency is required prior to filing for naturalization along with other qualifications; in Italy: 5 years of residency is required prior to filing for naturalization. See here.