Russia Persecutes Citizens Involved In Anti-War Protests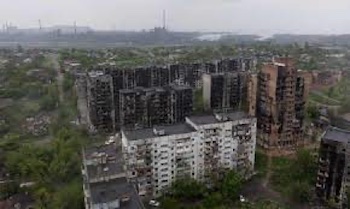 Mariupl, Ukraine
The authorities in Russia continue efforts to intimidate its own citizens who dare to speak up against the Russian actions in Ukraine. Several activists report what has been happening behind the scenes and the likely consequences of such actions. These reports are coming from Kazan.
At the height of the war months ago, a law was passed in Russia which makes it a crime in the country to discredit the Russian Armed Forces. Reports from Kazan show that several courts have arraigned more than 200 suspects on 300 allegations. These allegations are against the defendants said to have discredited the Russian Armed Forces. Others were arrested on claims of having protested silently against the war in Ukraine.
Yuri, a resident of Kazan was arrested on the streets for silently protesting against the war. The real name of the resident has been changed for anonymity's sake. Yuri, in his report, regularly passes the front of a police station on his daily commute for years without a second glance from the police officers. But the day he tied a green ribbon on his backpack, he was arrested. Some activists in Russia displays green ribbons in public areas as a means of silently protesting against the war. Yuri was arrested in Kazan for displaying a green ribbon on his backpack. Yuri maintained that the green ribbon on his backpack is a solidarity in the fight against kidney cancer.
"When I was first arrested, the arresting officer could not come up with any crime to charge me with. After writing several erroneous reports, I was finally charged with lacking trust in the military power of the Russian Armed Forces." Yuri reported.
Yuri was accused of lacking trust in the military might of his country in the presence of other citizens. The final report against Yuri shows that he was arrested for tying a green ribbon which has become illegal in Russia. Yuri was not the only Russian to have been detained and charged with "illegal protests".
The war against illegal protests intensified last month and numerous arrests were made. Just last week, two Russians were arrested and detained in Kazan. Their crime was having the audacity to post anti-war messages on goods in a supermarket instead of the usual price tag. Several of these anti-war messages also includes pasting news updates of the Ukrainian invasion on supermarket goods. They were accused of "undermining trust in the Russian Armed Forces." Several other similar cases were reported by activists from across the city of Kazan. Although several arrests have been made in Kazan for undermining trust in the Russian Armed Forces, none have been taken to trial in a court of law.
Several arrests relating to Russians protesting against the invasion of Ukraine by Russia has intensified in the last few days. Some of these arrests are near-hysterical. For example, a Russian male was arrested because he was accused of wearing Ukrainian colors – he was putting on a yellow jacket and a blue scarf. Another citizen reported that he was arrested for carrying a bouquet of dried flowers in the colors of the Ukraine flag – yellow and blue.
Several reports show that the police officers in Russia receive a special arrest bonus when citizens are detained for protesting verbally or otherwise against the war. Police officers are reported to arrest anyone with any situation relating to undermining the Russian Armed Forces. These arrests whether real or conspired translate to a special arrest bonus for such police officers. Other sources reveal that police officers refer to the Russian invasion of Ukraine as a special operation and not an act of war.
On the 6th, 17th, and 25th of March earlier this year, police officers raided the homes of several students, journalists, and activists to clamp down on antiwar protests. There were several reports of police brutality by the victims of these raids. These three waves of the raid resulted in the arrest and detention of numerous citizens. Things gradually got worse after March for antiwar protesters.
These raids, arrests, and detention of citizens are not limited only to Kazan. It is happening in every part of the Russian Federation. Residents in other parts of Russia have reported similar incidences of police brutality and illegal arrests and detentions. Police and judges across Russia emphasize that any clothing in the colors of the Ukrainian flag, graffiti against the war, and antiwar posters all undermine the Russian Armed Forces.
All these raids and arrests aim to intimidate and silence the people of Russia.
"government officials believe that these raids and prosecutions will silence the people and stop them from protesting against the war." Says Elsa Nizanbekova, who is a human rights activist. In the majority of these cases, people who were found guilty are simply fined. And anyone arrested again within a year of having been fined faces prison charges.
In response to the Russian actions in Ukraine, the world community passed serious of harsh economic sanctions against Russia, and implemented programs to help Ukrainians fleeing the conflict. In the United States, the latest effort, a humanitarian parole program Uniting for Ukraine, was launched. You can learn more about it here.
In addition, Russian citizens may claim asylum in safe countries if they can prove that they meet the International definition of a refugee: that is a person who is unable or unwilling to return to t heir home country due to the fear of persecution or who were victims of past persecution. If you need help with your asylum case, contact office to reserve a confidential consultation at 917 885 2261.
More on the topic: